Holtey Classic Hand Planes
Where precision toolmaking becomes art
"

He who works with his hands is a labourer.
He who works with his hands and his head is a craftsman.
He who works with his hands and his head and his heart is an artist.

"
- Francis of Assisi.
No.986 - a new low angle smoother.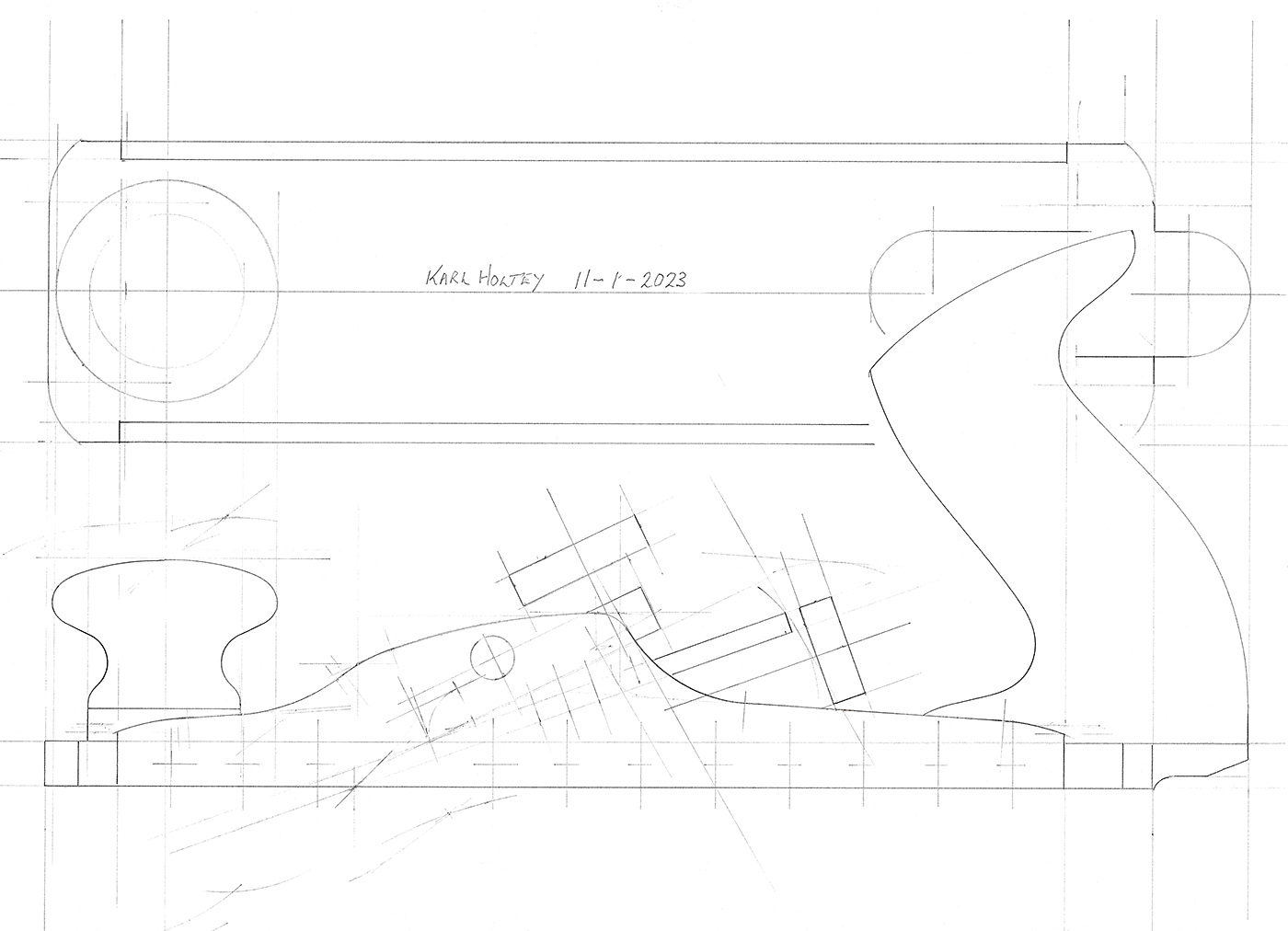 Whenever I think of designing a new plane my thoughts return to my original No.98, which in its basic form is a low angle (bevel up) smoother. This plane was a great success and marked my decisive move away from wood infill and peined dovetails with all their associated structural problems.

Subsequent designs in the 98 series addressed other issues, with improvements to handle fixing, adjuster mechanics and blade clamping, (bridge and lever cap design).

My lever caps are now machined from stainless steel rather than the brass castings used on the original No.98. Brass was only ever used for aesthetic reasons, as it never offered any advantage, and I have now stopped using it altogether. A stainless lever cap can be made with smaller sectional size and profile compared to brass, but with equal tensional strength, and suffers none of the oxidation problems which plague brass.

My 98 series has over the years proved fertile ground for other makers searching for design ideas, some of whom have disguised their efforts with small variations. I will be researching my archive for incremental tweaks and improvements to make my 'best ever' low angle smoother.

The No.986 will be 10" long, 2¾" wide with a 2¼" blade.

Besides wood or acrylic handles the No.986 plane will be all stainless steel - apart from a couple of adjuster components in bronze (used for its bearing qualities).

As you can see from the synopsis drawing, I have managed to tweak the plane's outline for a lower profile. Most of the strength will come from the bottom of the plane and this will result in a little extra weight overall. I will make a few minor alterations to the adjuster and use traditional knurling patterns for the adjuster and clamping knobs.

The handle fixings will be like those used on the No.985. This fixing method is hidden from view and very strong.

After experimenting with other blade materials, I have decided to stay with the A2 steel (I was the first person to use this material for plane blades and it is now a standard).

Having set the bar rather high with my original No.98 I have still managed to make many incremental refinements and tweaks to the design. There is no such thing as perfection, but I can keep improving.



No.983 Block plane
This is my stainless steel block plane - which has been a long time in its conception. I arrived at this design having studied and compared as many block plane designs as I could find, both old and new.
The qualities I was looking for were: simplicity, elegance and above all ease of use. One of the planes I looked at had an overall height of 2 1/2" and was noticeably more comfortable to the hand, giving a positive drive for the plane without having to pinch the sides too hard. This height is just right and truly feels comfortable and positive in use.
You will notice how the blade chamfer, the profile of the sides and the rear cutaway of the lever cap combine to allow easy access to the clamping wheel, whilst removing any possibility of contact with sharp edges. The open access to the clamping wheel makes blade adjustment or removal of lever cap, blade and adjuster so easy. I feel that the curves of the side panels flow nicely to give this plane a pleasing retro styling.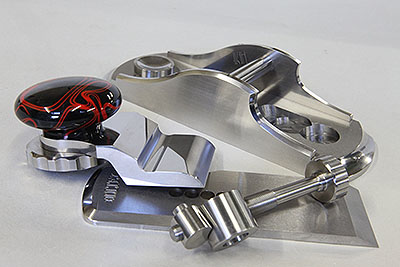 Bridge and lever cap
The lever cap has a recess cut
(see photograph above)
which engages with the bridge, thus providing further stability without any movement in the palm rest. I choose to use a low finger rest as I believe that this provides a much better feedback in use.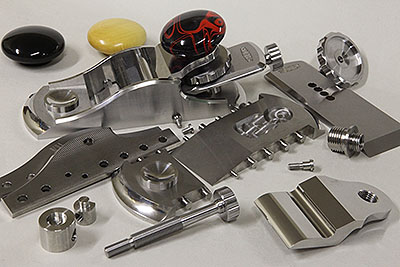 The circular cross section bridge has become a distinctive feature of my planes of late. It is fixed in place using integral riviting - the same technique used to join the sides to the sole which gives superior strength and ridgidity compared to more traditional fixing methods.
Adjuster
The adjuster recess is milled along with the blade bed - both surfaces are in true station, I decided not to fix the adjuster as it only needs to be positioned. The adjuster will support the rear end of the blade in line with the frog which makes up the blade bed. The adjuster is allowed to rotate and position the blade, this system was also used on the No.98 (excluding the retaining screw).

With this plane I have returned to integral riveting as first used on the N0.98 (also fabricated from stainless). The rivets have a small leading chamfer which also helps to prevent splitting when it comes to peining.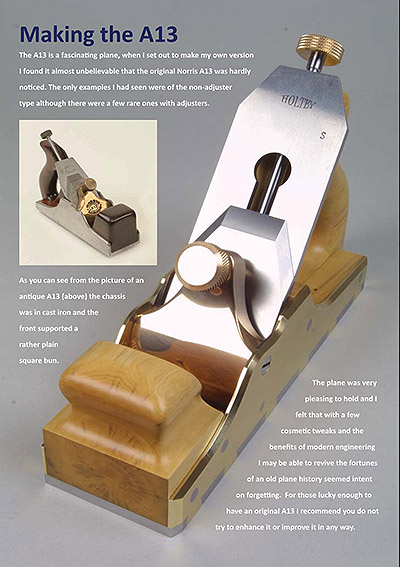 Making the A13
Many people who read my blog and visit my instagram and facebook pages enjoy the workshop pictures I post there showing my work in progress.

Some time ago we collected pictures of my last A13 build and published them together under the heading 'Making the A13'.

Although this was never intended to be an exhaustive documentry of a plane build, it does go some way to illustrate the variety of processes and number of hours which I put into making a plane.

I also tried to show some of the unseen work which goes into my builds, such as the custom tooling, work holding jigs, setting up for milling or lathe work and of course all the handwork such as filing and sanding.

This article has now been made into a PDF document which you can view on the planes / in depth / making the A13 page.

It is best viewed on larger screens as it is A4 page size and runs to 50 pages in total.